We understand the frustration that comes with encountering QuickBooks Error 6000 80, which can hinder your workflow and cause significant delays in your daily business operations. At our company, we have years of experience helping clients resolve this error and get back to focusing on their businesses. In this article, we'll provide you with a comprehensive guide on how to troubleshoot and resolve QuickBooks Error Code 6000 80, so you can get back to business as usual.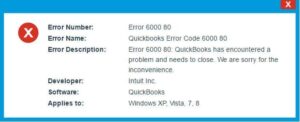 What is QuickBooks Error 6000 80?
QuickBooks Error 6000 80 is a common error that occurs in the QuickBooks accounting software. It can be caused by a number of factors, including issues with the company file, network issues, and problems with the QuickBooks software itself.
One of the most common causes of Error Code 6000 80 QuickBooks is when the QuickBooks company file is located on a different computer than the one you're using to access it. This can cause issues with the network connection and prevent you from accessing the file.
Causes of QuickBooks Error 6000 80
The company file is located on a network drive or a different computer, causing issues with network connectivity.

The company file is corrupted or damaged.

The QuickBooks company file name has exceeded the maximum character limit.

The QuickBooks company file has been opened by another user in Single User Mode.

The company file is being hosted on a server that is not configured properly.

The user account used to sign in to QuickBooks does not have sufficient permissions to access the company file.

The QuickBooks software is not up-to-date with the latest release.

The network firewall or security settings are blocking access to the QuickBooks company file.

The .ND or .TLG files associated with the QuickBooks company file are damaged or corrupted.
How to Troubleshoot QuickBooks Error 6000 80?
Here are some troubleshooting steps that you can take to resolve QuickBooks Error Code 6000 80:
Step 1: Update QuickBooks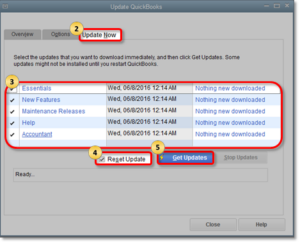 Open QuickBooks, then select the Help option.

Click on Update QuickBooks Desktop.

Click on the Update Now tab on the left-hand side of the screen.

Check the box next to Reset Update, then click on the Get Updates button.

QuickBooks will now download and install any available updates.

Once the updates have finished installing, restart QuickBooks.

If prompted, select Yes to install the updates.
Step 2: Check file permissions
Close QuickBooks if it's open.

Right-click on the folder that contains your QuickBooks company file and select Properties.

Click on the Security tab.

Verify that the user account you're using to access QuickBooks has Full Control permissions.

If the user account does not have Full Control permissions, click on Edit to modify the permissions.

In the Permissions for Users section, select the user account and then check the box next to Full Control.

To close the window, click Apply, then OK.
Step 3: Disable security software
Close QuickBooks if it's open.

Open your security software, such as your antivirus or firewall program.

Locate the settings or preferences section of the software.

Look for an option to temporarily disable or turn off the security software.

Select this option and choose the duration for which you want the security software to be disabled.

Save your changes before exiting the security software.

Open QuickBooks and verify that the issue has been resolved.

Once you have finished troubleshooting the issue, be sure to enable your security software again to ensure your computer stays protected.
Step 4: The .ND and .TLG files should be renamed.
Renaming the .ND and .TLG files can help resolve QuickBooks Error 6000 80. To do this, follow these steps:
Open the folder where the company file is stored.

Locate the files with the same name as your company file, but with extensions .ND and .TLG.

Right-click on each file and select Rename.

Add the word ".old" to the end of each file name (e.g., company_file.qbw.ND.old).
Step 5: Restore a backup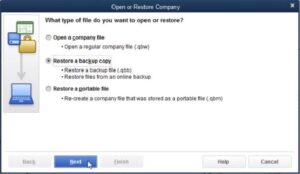 Close QuickBooks.

Locate the backup file that you want to restore.

Copy the backup file to your local hard drive if it's not already there.

Open QuickBooks.

Click on Open or Restore Company.

Select Restore a backup copy and click Next.

Choose Local Backup and click Next.

Navigate to the backup file's saved location and select it.
Conclusion:
If you're still experiencing issues with QuickBooks Error 6000 80 after trying these steps, you may need to contact QuickBooks support or consult with a professional to diagnose and resolve the issue. With persistence and patience, you can overcome this issue and continue using QuickBooks to manage your finances and grow your business.
Frequently Asked Questions (FAQs)
Q1. Why did QuickBooks Error 6000 80 occur?
QuickBooks Error Code 6000 80 can occur due to several reasons, including network issues, file corruption, outdated software, and more. It's important to identify the root cause of the issue in order to resolve it effectively.
Q2. Can I prevent QuickBooks Error 6000 80 from occurring again?
While there's no guarantee that Error 6000 80 QuickBooks won't occur again in the future, there are several steps you can take to minimize the chances of it happening. These include regularly backing up your company files, updating QuickBooks and other software, and ensuring that your network is running smoothly.
Q3. Will restoring a backup fix QuickBooks Error 6000 80?
Restoring a backup can often help resolve QuickBooks Error 6000 80 if the issue is related to a damaged or corrupted company file. However, it's important to remember that restoring a backup will overwrite any changes you've made to your company file since the backup was created, so be sure to save any important data before proceeding with the restoration process.
Q4. Is QuickBooks Error 6000 80 a serious issue?
While QuickBooks Error Code 6000 80 can be frustrating, it's generally not a serious issue. With the right troubleshooting steps, most users are able to resolve the issue and continue using QuickBooks as normal.
Don't Panic! QuickBooks Error 6000 80 Can Be Fixed – Here's How